This was Part I of the Brilliant Event, Lost Love. It focused on the love Severus Snape had for Lilly Potter, mother of Harry Potter.
Debuted: 25 February - 3 March 2020
Preceded by: Lost Love Part I
Dialogue
When the event starts the following Dialogue will appear...
Date & Time
Starts: 25 February 2020 at 2:00pm US Eastern Standard Time (-05:00 GMT)
Ends: 3 March 2020 at 2:00pm US Eastern Standard Time (-05:00 GMT)
Bonus Effects
While this event was active the following bonuses were in effect...
Potion Boosts
This Brilliant Event continued the mechanic introduced in Lost Love Part I that unlocked bonus effects that increased the effectiveness of potions after certain images were placed in the Registry.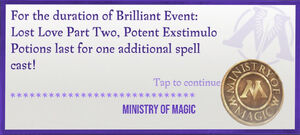 After triggering a potion effect, a pop-up dialogue box will appear to notify you of the new effects that will now take place for the remainder of the Brilliant Event.
Store Items
Free Pack
| | |
| --- | --- |
| 3 | 25 |
Free Bonus Bundle
The Bonus Bundle will not unlock in Diagon Alley (the store) until you reach the Bonus Assignments for this Brilliant Event.
Lost Love Part II Brilliant Bundle
Foundables
Brilliant Severus Snape
Trace Encounter

Brilliant Mirror of Erised
Trace Encounter

Brilliant Photograph of Lily and Severus'''
Fortress Challenge Reward

- Requires Lost Love Part II Brilliant Runestone

Brilliant Vase of Lilies'''
Lost Love II Brilliant Portkey

Brilliant Infusion of Wormwood
Brilliant Assignment Reward

Brilliant Cauldron
Brilliant Assignment Reward
Portkeys
Like all other Brilliant Events, Lost Love Part II featured Brilliant Porkey Portmanteau.
Location
The Brilliant Portkeys for this event will take you to Madam Puddifoot's Tea Shop.
Rewards
Brilliant Assignment Tasks
Preparation Before the Event
Page 1
Hints and Tips
Page 2
Hints and Tips
Page 3
Hints and Tips
You don't have to use all 6 Healing Potions in the one Fortress Challenge, you can space them out across several challenges]]
Get together with four other players and hit the hardest Chambers you can successfully complete to get the most Challenge XP and Wizarding XP
Avoid Landmarks (Flagged Areas) as Brilliant Traces appear less frequently inside these areas
Page 4
Hints and Tips
Bonus Assignment
Hints and Tips
Community content is available under
CC-BY-SA
unless otherwise noted.